It's My Birthday – and I'll Indulge If I Want To!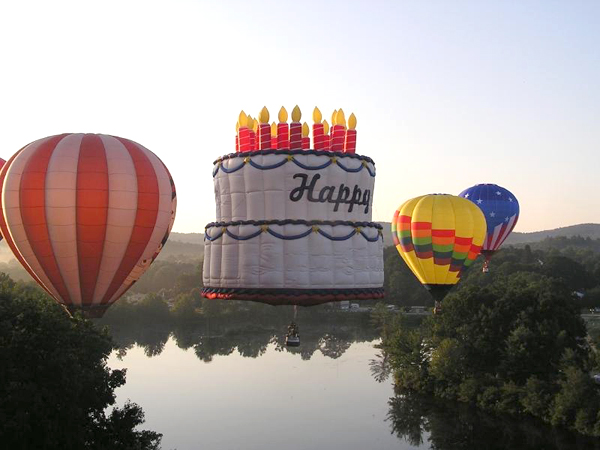 I woke up this morning with my son Ben in bed beside me sleeping peacefully.  Andrew is away this week and when dad goes away, my younger kids take turns sleeping with mum. It's become a tradition I really love because it's the only time I can cuddle without them trying to run away. As my brain cleared lying there in bed, I remembered that today is my birthday. As a kid it seems to take forever to get from one birthday to the next. We are just busting to be that year older. We tell people, "I'm 5 and a half" or " I'm 7 and three quarters."  I remember clearly being "9 and eleven twelfths" as I eagerly awaited having a double-digit age.
Nowadays it seems my birthday comes around faster than I can get my head around the age I turned the previous year. I remember turning 27, then 28, started having kids at 29,  my 30s passed by like a speed train and now, as if I've just stepped out of a time machine, I find myself at an age that as a child I considered old.
But I don't feel old. In fact, I have never felt so youthful, thanks partly to busting my ass three or four mornings a week at 6am in Wolfgang's boot camp class. Being fit has a way of making us feel young. Or younger.
What I feel today though, more than young or old or fit or anything else is gratitude.  Which is why I am writing this today. It may seem a bit self-indulgent — very me-me-me  focused — but it's my birthday, so indulge me!
It's so easy to get swept up into the busy-ness of living. Of raising our kids and ferrying them to and fro, keeping up with friends, being active in community. Doing our job or growing our business or whatever it is for you. Yet life can only ever be lived in the moment and today I want to live in the moment. I want to be fully present to my life today, for all that it is and for all that it isn't.
I want to be present for the great people around me, my husband and my children. For Lachlan who is 12  ("and three-quarters!") and growing up so fast into a very fine young man. For Madelyn Rose who is eleven-teen and developing into an articulate young woman, very mature on some occasions, still very much eleven on others.  For Ben who is 9 and has the most loving heart and curious mind.  For Matthew, 7 and "nearly three quarters"  who will always live life on the edge and will change the world in his own exuberant way.  And who proudly declared, as he gave me a necklace/ear ring set this morning, "and it only cost me a buck!"
My years have not all been easy. I've struggled with bulimia through my teens and 20s, I've struggled with money, I've struggled with sibling relationships, I've struggled with family tragedy, I've struggled with knowing what I was supposed to do with my life, I've struggled with moving to new cities and countries and with accepting myself for who I am and worrying about what people will think of me. I've struggled with a deep sense of inadequacy and a need to be approved of, liked, admired even.  And to be honest, I still struggle. Not all the time. But often enough to keep me humble. Often enough to keep me working on myself and something tells me that I've got a good many years ahead on that front.
So today, on this anniversary of my arrival into the world at the Bairnsdale hospital, I want to give up struggling and striving,  and sit quietly, peacefully, in a place of gratitude. Gratitude for all the struggles, setbacks and sorrows which have brought me to where I am, and gratitude for all my blessings (sometimes disguised as struggles) that have allowed me to live a life that makes a difference.
Whatever age you are right now, you are never too young nor too old to give up struggling and to embrace deeper gratitude. To let go your self-doubts, your fears and feelings of unworthiness and to step forward in your life with a renewed appreciation for all that you have and for all that you are — unique, worthy, valued and valuable and unrepeatable in every way.
Ahhh… life is a mystery. In trying to make sense of it, in trying to understand why things happen as they do, in why we struggle and suffer and must go through the experiences we do, we can get ourselves into a big twisted knot and fall into bitterness or resignation or regret. None of which serve us or the world in anyway. Life doesn't always make sense. Some years are just more difficult than others. Some birthdays happier than others. Some relationships more joyful and others more pained. Life is just life and with each year that passes, with each day that passes, we have a choice about how we will live it.
Earlier this year, just weeks after my own brother's funeral, I went to a funeral of a man born a few months after me. He also had four children. And a partner who loved him and a life he wanted desperately to live.  But he never made his 42nd birthday. I have. And on this birthday I don't take that for granted at all.
Thank you for reading this. But before you jump to the next thing I invite you to pick up the phone, or send an email, or walk into the next room and let someone in your life know how grateful you are for them.
It will make your day.  It will make theirs. And it will make mine an even Happier Birthday!